Sparkling Delights 14th April 2016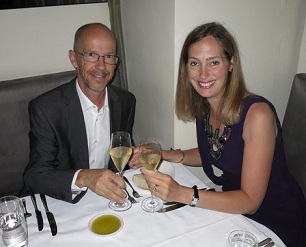 Thanks to my marrying a generous man I have had the pleasure of drinking some of the best French champagnes and it is a taste I have eagerly developed and indulged.
I knew enough about wine when, in a fit of insanity, we bought the vineyard to know that having Pinot Noir and Chardonnay meant that we had the necessary ingredients to make a sparkling wine of our own. I told Nick then and there that I would like to drink a bottle of Top Note sparkling on our 10th wedding anniversary (no pressure there then!)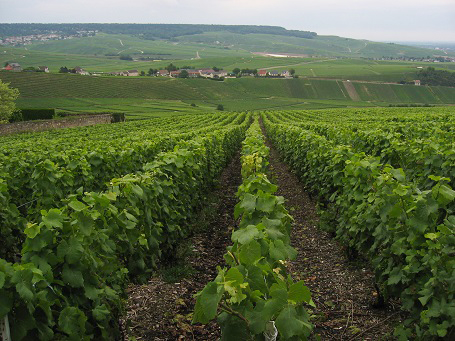 Of course we are not allowed to call it Champagne in Australia as this is a term the French have (quite rightly I suppose) named as an AOC (Appellation Origine Controllée). Champagne can only be called Champagne if it is grown in the Champagne region of France. So instead we shall drink a Top Note Sparkling in three years' time and I am quietly confident that it will taste just as good as some of the champagnes we have enjoyed over the years. Yes I did say three years. Winemaking is a patient game and if you want to make something worthwhile then you need to be prepared to invest the time to do so.
2016 was the vintage we chose to give this exciting project a try. Grapes for sparkling are picked far less ripe than grapes for table wine so we had to carefully check the sugar levels on our selected chunks of block 1 and 2 to see when the grapes got to around 10.5-11.5 Baumé. We almost missed the boat as the grapes stopped for about a week after 30mm of rain on the 2nd February and then fast forwarded at an alarming rate. With a lot of scrambling to organise bins and trucks and pickers we finally managed to get the grapes picked (both varieties) on the 20th February. This being a Saturday I gave our helper Justin the job of driving the tractor as Nick was away that day and I had to man the cellar door (dressed in my most attractive hot pink high-vis shirt!) in between checking on the pickers and dealing with the freight.
We picked into small bins with milk crates stacked in the middle so that the grapes could be efficiently refrigerated on arrival at Lodestone Winery where winemaker Michael Sykes would begin the process of turning them into sparkling wine.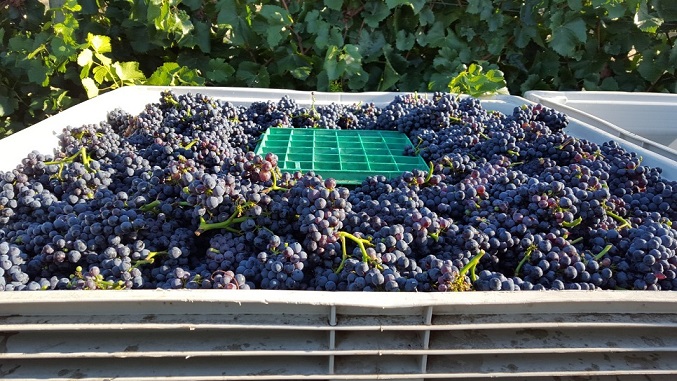 There are of course more ways to make sparkling wine than the slow, arduous and expensive méthode tradionnelle that Michael will employ. You can make a white wine and then simply carbonate it. If you find inexpensive sparkling then you can usually guarantee that it has been made this way. You could even, as one video I saw at a marketing conference showed, grab a cheap white wine and stick it in your soda stream. This will give you a bubbly white wine and may satisfy some people. But if you want the real deal then you need to invest a little more effort.
The grapes were picked and then refrigerated on arrival at the winery so that there was less colour extraction from the Pinot Noir when it came to be pressed. They were then fermented together and will at some point be bottled. A small amount of sugar will be added at bottling so that they can begin a secondary ferment in the bottle. This creates carbon dioxide which is what gives sparkling wine its bubbles. The "official" term for the bubbles is the bead and, in general, the finer the bead the better the champagne.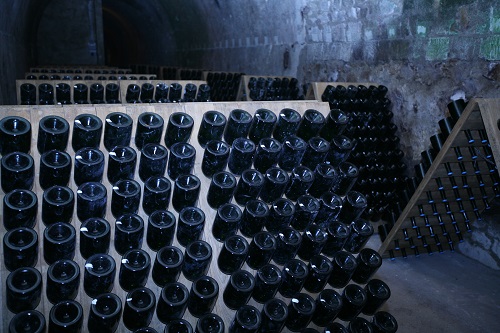 After the secondary fermentation the bottles will be left to mature on lees (dead yeast cells that add that delicious brioche flavour to champagne) for at least three years. After this they will be riddled (turned consecutively at a downward angle so the yeast accumulates at the neck of the bottle), disgorged (removing the frozen yeast "cap")and given a dosage of something sweet to top up the bottle – in our case we are considering using some of our yummy 2015 sticky so the final result will be entirely single vineyard. Watch this space!
Other blog posts
There is something beautiful about harvest. Something beautiful about the men and women who knuckle under and do whatever is necessary to get the grapes... Read more
Prior to being a viticulturist I spent much of my time touring Scotland as an opera singer. After a few years of trying I finally persuaded my sun loving... Read more
In the early days of South Australian winemaking a grower planted a collection of the Semillon Madeira clone in the Barossa Valley sometime in the 1930s... Read more
© Top Note 2011-23. All Rights Reserved.